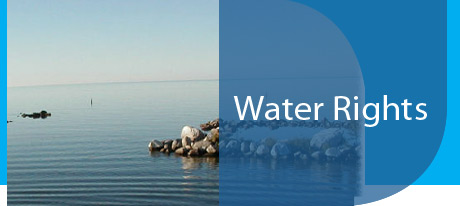 The purpose of the Manitoba Water Rights Licensing scheme is to ensure the sustainable allocation of the province's water resources.
The intent of water rights licensing is to protect the interests of licensees, existing domestic users, the general public and the environment with respect to the use or diversion of water. In Manitoba, water withdrawals of less than 5500 Imperial Gallons per day (25,000 L) generally do not require licensing. These projects are protected under the domestic exemption. Licences are issued for municipal, agricultural, industrial, irrigation and "other" purposes. Projects that fall into the "other" category include non-domestic low temperature geothermal projects; aquaculture; fire protection; water bottling; water slides; dust suppression on road construction projects; large scale hydrostatic testing; etc.
Objectives:
To ensure fair and equitable allocation of water for beneficial uses
To provide for optimal allocation of water within the sustainable limits of the resource base
To assess and license appropriate water use proposals
To provide clients with high quality, timely service and information
To ensure that the potential for negative impacts of water use projects are minimized
Need More Info?
Email or call us at:
204-945-6784
1-800-214-6497
Quick Links
Resources