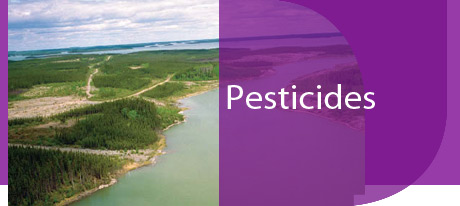 The management of pests is a concern for all persons in many different aspects of life. Federal legislation defines pests as being a animal, plant or other organisms that is injurious, noxious or troublesome. Pests can impact food supplies, public health, the economy and the environment if not properly managed. Manitoba has a number of unique pest challenges that may require interventions such as using a pesticide or pest control products. Pesticides typically include herbicides, fungicides, insecticides, plant growth regulators, insect growth regulators, algaecides and rodenticides, to name a few. Any product that is used to directly control, destroy, repel or attract a pest may be considered a pesticide under Canadian legislation.
Homeowners are generally restricted to using domestic class products whereas industry often will use commercial and agricultural class product. Manitoba has legislation that oversees many aspects of pesticide use in these respects, including:
Manitoba Environment and Climate partners with other agencies regulating pesticides in the province including:
Manitoba Environment and Climate promotes judicious use of pesticides for all users that limits exposure to applicators, the public, and the environment wherever possible.
***Note: The government is currently experiencing a temporary issue with emails from outside of government that have attached files that are archived/compressed (Zip files) and encrypted/password protected PDF or Microsoft office files.
The government network may block the delivery of these emails. Neither receiver nor sender will receive a notification that the email was blocked. The Environmental Approvals Branch will send a confirmation email within two business days to confirm receipt of emails with attachments.
If you do not receive a confirmation email, please follow up with an email without an attachment to krystal.penner@gov.mb.ca or call 204-945-7107 to arrange an alternative method of delivery.
Need More Info?
Email or call us at:
204-945-6784
1-800-214-6497
Environmental Approvals
1007 Century Street
Winnipeg, MB
R3H 0W4
204-945-7107
Quick Links
Resources