The Manitoba Advantage in Pea Protein
Manitoba has an economical and sustainable land base with a good transportation network, making it an ideal location to grow the pea protein industry. The demand for Manitoba-grown peas is forecasted to grow as pea processing capacity increases in the province. Growing peas provides many soil and farm management benefits.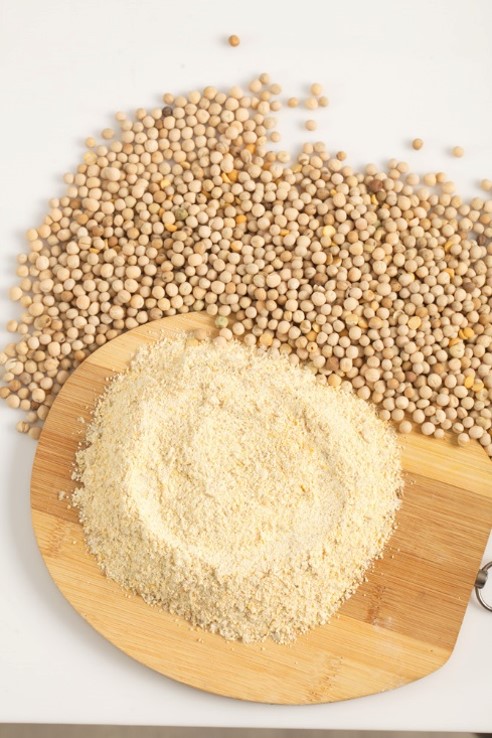 Manitoba's Pea Industry
Peas are typically grown in the western regions of the province, due to well drained soil types.
In 2021, there were over 224,000 acres of peas planted in Manitoba and this number has been rising in recent years.
The majority of peas grown in Manitoba are yellow peas, used for food and animal feed industries.  

In 2020, 246,200 metric tonnes of dry peas were produced in Manitoba, generating $43.1 million in cash receipts.

Manitoba exported dry peas valued at $24 million in 2020, in the form of dried, shelled or split peas, totalling 70,300 tonnes.
Processors:
Industry Associations:
Market and Consumer Trends
The demand for plant protein has gained traction in North America, increasing consumer demand for pea protein. Dry peas are an excellent source of protein, dietary fibre, vitamins and minerals - protein content in peas is around 22.7 per cent.  The global food industry offers highly specialised pea protein ingredients such as concentrates, isolates and textured pea protein. The pea protein isolate market is projected to grow in the upcoming years.
There are opportunities for pea protein to be used as an ingredient in meat analogues and extenders, high protein bakery products and pea-based beverages. 
Research
The University of Manitoba has a Research Agronomist who is specialized on soybean and pulse crop agronomy and cropping systems. Agriculture and Agri-Food Canada research stations in Morden and Brandon are working on pulse and soybean disease issues. 
Success in Manitoba's Pea Protein Industry
Roquette Canada's $600m Investment into the Plant Protein Sector
In the middle of a pandemic,
Roquette's
pea protein plant was the largest construction site in Manitoba, employing nearly 1,600 people. In November 2021, the $600-million, 200,000-square-foot plant had its virtual grand opening. 
The facility features 60 kilometers of pipes, a two-level microbiology lab, and receiving bays that can handle nearly 12 truckloads of peas a day, making it one of the most energy-efficient facilities in the world. A workforce of about 120 people is employed to process 125,000 metric tons of yellow peas per year. Roquette selected Canada to host the plant because Canadian pea production accounts for 30% of global production. At the same time, Manitoba provides highly skilled and well-educated labor and reliable and sustainable hydropower advantages.
Continuing to work through the pandemic caused delays and complications, from equipment stuck on shipping docks to construction workers needing to social distance and frequently tested for COVID. 
Through it all, Dominique Baum
ann, CEO of Roquette Canada, said it was a good idea beca
use the d
emand for pea protein is growing steadily due to an increase in consumer healt
h co
nsciousness.
With over 40 years of experience in plant-protein research and development, Roquette's investment is set to develop further and strengthen the value chain for pea production across Manitoba. Producers, processors, food innovators, and consumers will all see the benefits of this investment as pea protein production continues to thrive across the globe.

Roquette's pea protein plant aligns with the Manitoba Protein Advantage Strategy's goal to harness and advance Manitoba's success in the global protein ecosystem. Together, the Manitoba Protein Consortium is working to explore nutritional security, sustainability, and processing challenges for pea on the Prairies to further position Manitoba as a global leader in sustainable protein production.
Contact