Education and Early Childhood

Become Classified
Appeals 
You may appeal the decision about your classification level. To appeal, you must write a letter and send it within 30 days of receiving of your classification certificate. Your letter must include all of the following information: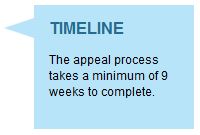 Your name
Your address
Your classification level
The date of your classification
A statement indicating that you wish to appeal your classification
Send your letter to this independent committee:
Social Services Appeal Board
7th Floor - 175 Hargrave Street
Winnipeg, Manitoba R3C 3R8
Phone: 204-945-3003 or 204-945-3005 in Winnipeg
Toll free: 1-800-282-8069
TTY: 204-948-2037
Fax: 204-945-1736
Email: ssab@gov.mb.ca
This committee will assess your classification to determine if procedures were followed correctly in the classification process. The committee can change your classification level if it determines that you were incorrectly classified.