Visit this blog for regular posts about Your Archives: The Histories We Share. Visit the Archives of Manitoba to see the records in person.

September 2021:

September 28, 2021
Interview with Gilbert Abraham, a residential school survivor, and Oblates of Mary Immaculate films – Submitted by Gilbert Comeault, former archivist, Archives of Manitoba
This submission deals with topics that may cause trauma invoked by memories of past abuse. A National Indian Residential School Crisis Line has been set up to provide support for former Residential School students. Please call the Crisis Line at 1-866-925-4419 if you or someone you know is triggered while reading the content on this blog.
"When I was starting a master's program at the University of Manitoba in the late 1960s and early 1970s, one of the few times I remember bringing up the subject of First Nations was in the context of the history of New France. After 1760: total silence, as if they had ceased to exist. They slipped into anonymity, even faded into oblivion. Even the master's-level specialization courses in Manitoba and Western Canada did not touch on this past, let alone the present.





"It was not until 1985 before this topic began to concern me. It was due to an oral history program undertaken by the Archives of Manitoba which included workshops. To practice what I preached, I did a few interviews, one of which survived.





"The subject of residential schools was not new to some of us. But for me, it was new. In 1985 I began an interview with Gilbert Abraham, of the Saulteaux tribe of the Objibwe Nation, who told me about his childhood experiences in a boarding school where he had been sexually assaulted in all possible ways, where he was being washed, mouth with soap if he spoke his native language, where he was called a pagan and where he had to work seven days a week gardening in the summer and doing various chores in the winter. The trauma of his childhood began when he was separated from his family and loved ones.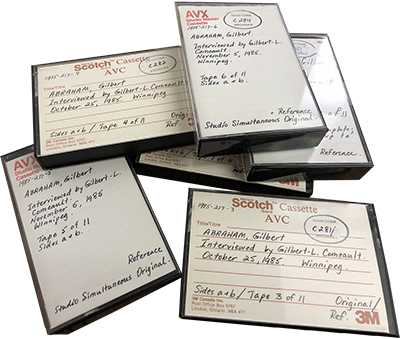 "I also remember Father Adrien Darveau, o.m.i., from the parish of Saint-Pierre du Lac Caribou in Lac Brochet, who contacted me about a 16mm film of which he wanted to obtain a video copy. When he came to the archives to pick up the VHS copy, we watched the film together. Father Darveau explained to me that the native children were boarding a seaplane that took them to a native residential school about 400 miles from their home. Suffering from tuberculosis, dying of malnutrition or abandonment, some of these children would not come back. For the young people who returned home, sometimes they could only speak English, while the parents spoke only Cree. In this film, parents could be seen standing on the shore of Lac Brochet, watching their children board a seaplane leaving their childhood behind."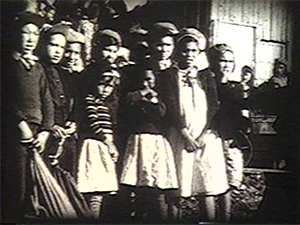 Archives of Manitoba, Oblates of Mary Immaculate collection, screenshots from St. Peter's Mission, Reindeer Lake (St. Pierre du Lac Caribou) film, 1948, V82.
The Archives of Manitoba holds these records. Contact us for more information. You can also Visit Us in person at the Archives of Manitoba.
Want to participate in Your Archives? See Submit Your Story for details. You may e-mail us at yourarchives@gov.mb.ca with a comment about this blog post and your comments may be included on this page.