Upcoming 2020 Events

Your Archives: The Histories We Share - exhibit development
Visit the Archives of Manitoba regularly throughout 2020 to see the exhibit develop. See Location and Hours to plan your visit.

Saturdays @ the Archives
Last Saturday of the month from 9 a.m. to 4 p.m. (until April 25)
Explore the Archives Research Room during these extended hours. See Location and hours for more information.

Indigenous Afternoons in the Archives
Wednesday afternoons from 1 p.m. to 4 p.m. (bi-weekly until April 22)
Learn from local researchers and academics, who will be on site to assist clients with Indigenous-focused research. These bi-weekly events are being held in collaboration with the Canada Research Chair in Indigenous People, History, and Archives (University of Winnipeg) and the Manitoba Indigenous Tuberculosis Photo Project.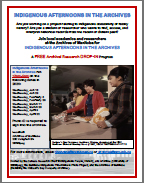 Doors Open Winnipeg
May 30, 2020
Doors Open Winnipeg is a free city-wide celebration of Winnipeg's distinct spaces, outstanding architecture and vibrant history. Come to the Archives of Manitoba and learn about the history of the Civic Auditorium (now the Manitoba Archives building). Come for tours and displays of selected archival holdings.

Past Events
Films from the Archives
Wednesday, February 19 at 7 p.m.
Come enjoy an evening of selected films and videos from the Archives of Manitoba, including the Hudson's Bay Company Archives.