Visit this blog for regular posts about Your Archives: The Histories We Share. Visit the Archives of Manitoba to see the records in person.

May 2021:

May 28, 2021
Annie M. Laycock diary – Submitted by Jody Baltessen, former Manuscript Archivist, and later, Head of Textual Records and Public Service at the Archives of Manitoba
"When I joined the Archives in 1990, one of my assignments was to manage the records of women and their organizations. Thanks to the work of many archivists who came before me, the Archives' collection of records by and about women was extensive, and I was privileged to work with many of the organizations, women, and families whose records form this collection. And to acquire new records as well.





"Though it's hard to choose from the many records I worked on while at the Archives, there is one item in particular that has stayed with me all these years: a nondescript little diary – with entries covering the period January 1, 1901 to mid-August of the same year – that found its way to the Archives in a roundabout way.





"Diaries, journals, bundles of old letters, photograph albums, and carefully compiled scrapbooks are sometimes dependent on a mediating hand for their preservation. In this case, the mediating hand belonged to a museum volunteer in British Columbia who received the diary from a book dealer in the 1960's. The book dealer found it in a box of books he was preparing to sell. As the diary had no monetary value, he gave it to his friend, who kept it safe for nearly forty years. Then, out of concern for its future preservation, she asked for advice from the curator of a museum where she was a volunteer. The curator reviewed the diary, and given its contents, sent an e-mail to the Archives of Manitoba. In due course, the diary of 19-year-old Annie M. Laycock made its way back to Winnipeg.





"Annie begins her diary by saying 'Left my home in Minnedosa for Winnipeg, where I was going to attend Second Class Normal.' During her time in Winnipeg, the Provincial Normal School, where prospective teachers were trained, was located in Mulvey School, just west of Wesley College (Methodist), Manitoba College (Presbyterian), St. John's College (Anglican) and the downtown core of the city. All of these schools, including a medical college and a pharmaceutical institute, as well as recreational facilities like skating rinks and theatres, figure in the social and cultural engagements Annie writes about in her diary. Perhaps in keeping with these experiences, she thought to include this little verse, under the title "Manitoba College Latin", on the diary's final page: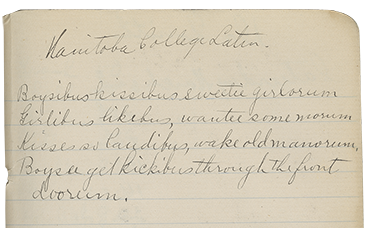 "However brief, Annie's diary contains considerable detail about the daily/weekly routines of normal school, how a young woman of relative privilege might entertain herself in Winnipeg circa 1901 – literary's, skating parties at Wesley or McIntyre Rinks, and musical gatherings – insights into the home life of families who boarded students, and the tragic outcome of illnesses like typhoid and diphtheria, which were prevalent in the city in those years. Through these entries, Annie reveals the active social life of her contemporaries, a fairly well-educated group of young men and women flowing into the city to train and take their talents home. As for Annie, we know from her diary that she intends to take a teaching position at Runnymede School near Oak Lake, Manitoba, for $425 per year. And there we leave her.





"Although there are few personal details in her diary, Annie reveals enough about herself to cause the reader to wonder who she was and what became of her. Using clues in the diary, I was able to identify her father as a Methodist minister, and church records show that he retired to Vancouver, where he died in 1921. His obituary reveals that Annie had married by then, and was living in London, Ontario. Her husband, Dr. Benjamin Keillor, served as a medical examiner in the London office of the Soldier's Resettlement and Pension Board. In 1928, the Keillor's disappear from city directories in London and appear briefly in Ottawa, where the Board office had moved. The Keillor's later relocated to Vancouver, where Annie died in 1972. It appears that she left no other records behind."




Want to know more? Search Keystone for more information.
Want to participate in Your Archives? See Submit Your Story for details. You may e-mail us at yourarchives@gov.mb.ca with a comment about this blog post and your comments may be included on this page.

May 14, 2021
Ground Plan of York Factory by James Isham – Submitted by Ala Rekrut, Conservator, Archives of Manitoba
"This plan was drawn c. 1743 and depicts the second fort on the site, now lost to riverbank erosion. The features are numbered, but the corresponding explanations are not available. I first saw this item when I was a conservation intern preparing it for an exhibition. Isham's child-like drawing stood out among the sober looking work by trained mapmakers. I had been studying papermaking and paint composition and it was immediately clear that Isham was doing his best with limited knowledge and resources.
"The drawing is on six pieces of two colours of relatively coarse papers which would normally have been used for wrapping goods rather than for writing. These salvaged papers have been flattened and glued together to form one big drawing surface. The paints appear to be home-made, and something in the red and green paints has been absorbed by the soft paper, creating dark halos around those painted areas.



"Isham strives to communicate visually to supplement his written descriptions of York Fort and its surroundings. With no training in art his drawings are naïve, but he comes up with an innovative folk-cubist solution to the problem of rendering a three dimensional world in two dimensions. He depicts the layouts of the land and buildings in plan view – as if we were looking down on them, while showing important features in elevation – as if we were observing them from the river or from outside of the fort or from inside of the fort.



"Particularly interesting details include: #17 (top right) a large trading party coming north on Hayes river with black bundles in their canoes and one empty canoe going back upriver; #1 (top left) a partial view of an HBC ship offshore in Hudson's Bay; and (top left) a hunter shooting at a goose."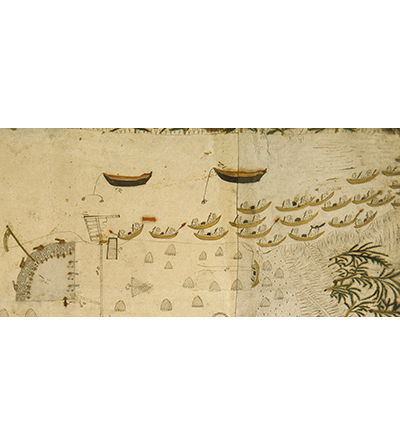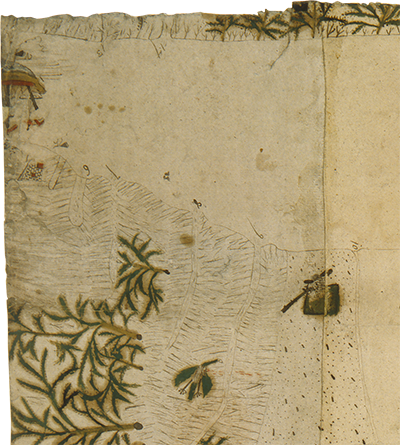 Want to know more? Search Keystone for more information.
Want to participate in Your Archives? See Submit Your Story for details. You may e-mail us at yourarchives@gov.mb.ca with a comment about this blog post and your comments may be included on this page.