Smoking or Vaping in Public Places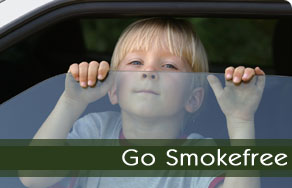 Research shows that secondhand smoke leads to the same health problems as direct smoking, including lung cancer, cardiovascular disease and lung ailments such as emphysema, bronchitis and asthma. Manitoba has had a ban on smoking in enclosed public places since October 2004, through The Smoking and Vapour Products Control Act. New provisions related to vapour products and their use came into force on October 1, 2017; as of this date, the same rules that apply to tobacco use also apply to vaping in enclosed public places. Public Health Inspectors investigate complaints about violations of the smoking and vaping ban in venues such as restaurants bars, arenas, shopping malls and any other enclosed public place.
CONSTRUCTED OUTDOOR PUBLIC SPACES
Construction of any tent or other structure that is "enclosed" and "indoor": an outdoor eating or drinking area is an enclosed public place or an indoor workplace if
(a) more than 25% of its total floor area is covered from above by a roof, canopy or other physical barrier that is capable of excluding rain; and
(b) more than 50% of its perimeter is more than 50% enclosed.
"Enclosed" means obstructed by a physical barrier, including a wall; a window or door, whether or not it is open; panelling; fabric or an awning; dense vegetation; fencing or lattice; or any other physical barrier that impedes airflow; but not including screening. Fencing or lattice that does not impede airflow is not considered to be a physical barrier. In determining whether an area's perimeter, or a portion of it, is more than 50% enclosed, its vertical dimension is considered to be the greater of (a) the distance between the serving floor and the roof or other cover described in clause (1)(a); and (b) 2.15 m. A retractable roof, sliding wall, shutters, canvas, plastic sheeting or other potential barrier, not including screening, that is capable of enclosing or partially enclosing an outdoor eating or drinking area is considered to be a physical barrier at all times to the maximum of its potential coverage.
To file a complaint regarding smoking or vaping in an enclosed public places, please contact your local Public Health Inspector.
For help with quitting smoking, please call the Smoker's Helpline at 1-877-513-5333.
Links