Manitoba Government Job Opportunities
Information for Job Seekers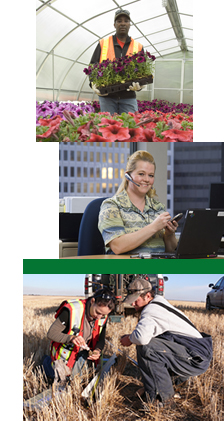 Are you interested in working for the Manitoba government and ready to apply? Here is information and some handy tips that will help you succeed.
Didn't find a position that suited you on our job opportunities site? We update the site with new opportunities daily, so keep on checking!
You might also consider applying for a casual or short term entry level position to gain experience (see How to apply), or look to see if you are eligible to apply for one of our Internship, recruitment and development programs.
Are you a student? Check out Student/Youth Services to see what other opportunities are available to you.
Information Sessions on the Staffing Process
We offer information sessions on the Manitoba government's staffing process. Sessions are free and last about two hours. Participants can attend the session in-person or via teleconference or web conference. Topics include: job advertisements terminology, the Common Recruitment Initiative (CRI) and other employment opportunities; resumé-writing tips; preparing for the interview; and following up if you are not successful.

Registering for Information Sessions

To register, call between 8:30 am and 4:30 pm, Monday to Friday at 204-945-2332 or TTY at 204-945-1437 or toll free 1-800-282-8069 ext. 2332, or email us at csc@gov.mb.ca. When registering, please advise if you will be attending the session in person or via teleconference or web conference.

Please advise as soon as possible if you are not able to attend an information session for which you have been registered.

Information Sessions for the Public 2019-20
These sessions are only intended for members of the public who are not currently employed by the Manitoba government.

Date

Time

Location

935-155 Carlton Street, Boardroom A

Wednesday, May 15, 2019

1:00 p.m. to 3:00 p.m.

935-155 Carlton Street, Boardroom A

Thursday, June 20, 2019

9:30 a.m. to 11:30 a.m.

935-155 Carlton Street, Boardroom A

Wednesday, July 17, 2019

1:00 p.m. to 3:00 p.m.

935-155 Carlton Street, Boardroom A

Thursday, August 15, 2019

9:30 a.m. to 11:30 a.m.

935-155 Carlton Street, Boardroom A

Tuesday, September 17, 2019

935-155 Carlton Street, Boardroom A

Thursday, October 17, 2019

935-155 Carlton Street, Boardroom A

Wednesday, November 13, 2019

935-155 Carlton Street, Boardroom A

Tuesday, December 10, 2019
(in French)

1:00 p.m. to 3:00 p.m.

935-155 Carlton Street, Boardroom A

Tuesday, December 17, 2019

935-155 Carlton Street, Boardroom A

Thursday, January 16, 2020

935-155 Carlton Street, Boardroom A

Tuesday, February 11, 2020

935-155 Carlton Street, Boardroom A

Thursday, March 5, 2020
(in French)

9:30 a.m. to 11:30 a.m.

935-155 Carlton Street, Boardroom A

935-155 Carlton Street, Boardroom A