Environment, Climate and Parks
Actions to Mitigate Manitoba's Carbon Emissions and Transition Manitoba to a Sustainable, Low-carbon Economy
Manitoba has a clean energy advantage – an abundance of hydro power means that 99% of the electricity generated in our province is renewable. That makes our electricity grid one of the cleanest in Canada, but there are still opportunities for Manitoba to lead and to prosper in the transition to a sustainable, low-carbon economy.
Our Made-in-Manitoba Plan proposes actions to:
Reduce electricity and natural gas consumption through targeted programming led by Efficiency Manitoba. Energy efficiency is the quickest, cleanest and least costly way for Manitoba to meet its growing energy demands. It also reduces energy costs for individual consumers and greenhouse gas emissions from natural gas.
Transition communities that rely on diesel generators to renewable sources of electrical energy, reducing their carbon emissions and providing greater energy security.
Expand Community Energy Planning (CEPs) in Manitoba, helping municipalities to better understand their local energy needs and costs and plan for a more sustainable future.
Help households and businesses save money by transitioning them from fossil fuel heat, such as natural gas, to green heat options, such as geothermal, solar heat or biomass.
Build on Winnipeg Transit's early success piloting 4 battery-electric busses by expanding the electric bus fleet in Manitoba.
Manitoba is also exploring targeted actions to offset or reduce our greenhouse gas (GHG) emissions, and to enhance the resiliency and sustainability of key sectors of our economy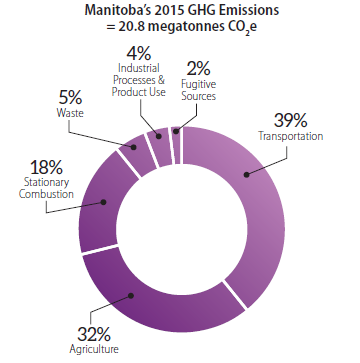 Transportation:
Lead the way in the adoption of clean fuels and the electrification of transportation.
Work with the Manitoba Trucking Association to advance innovations for Manitoba's trucking fleet that will reduce emissions.
Support greater use of active and public transportation.
Agriculture:
Support innovation and research, especially as it relates to adaptation and resilience in the agricultural sector.
Support on-farm beneficial management practices (BMPs) that provide climate change adaptation and mitigation benefits.
Expand the adoption of new precision farming technologies.
Evaluate the climate change risks, vulnerabilities and opportunities facing Manitoba's agricultural sector, and develop strategies to address them.
Stationary Combustion (emissions from the heating and cooling of buildings, manufacturing, construction, mining, and oil and gas production and refining):
Raise and harmonize Manitoba's building codes and standards to improve the energy efficiency of new residential and commercial buildings.
Work with commercial building sector organizations to actively support energy efficiency in existing buildings.
Waste:
Reduce the amount of organic material going into landfills.
Enhance the diversion of non-organic waste from landfills, especially waste containing ozone-depleting substances or materials currently managed by product stewardship organizations.
Manitoba has also committed to establishing a Low-Carbon Government Office to reduce the carbon footprint of government operations.
Adaptation
The time for action is now. Communities across Manitoba are already feeling the impacts of climate change through extreme weather events, changes to wildlife and plants and impacts to human health, and all indications are that those events will become increasingly more challenging in the future. Manitoba businesses, communities and citizens will have to adapt.
Planning for and adapting to climate change is foundational to the strategic framework of our Made-in-Manitoba Plan. Understanding how our local climate will change, how that will impact our businesses, communities and citizens, and preparing for those impacts underlies all of the actions proposed in our Made-in-Manitoba Plan.