Environment, Climate and Parks
Manitoba's Wind Farms
Presentations:
Manitoba currently has 2 world class wind farms supplying power to domestic and as well as export customers.
St. Joseph Wind Farm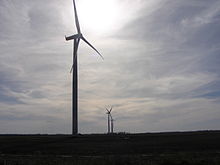 Pattern Energy Group commissioned the $345 million St. Joseph Windfarm in March of 2011. The 138 megawatt (MW) project consists of 60, Siemens turbines, each with a nameplate capacity of 2.3 MW. The turbines are set on towers that are 80 metres high, and will generate enough power to serve the needs of 50,000 homes. The project is distributed over an area of 125 square kilometres (over 30,000 acres) of privately owned agricultural land and is located in the rural municipalities of Montcalm and Rhineland.

For more information on Pattern Energy and the St. Joseph Wind Farm please refer to: http://www.patternenergy.com/business/projects/st_joseph
St. Leon Wind Farm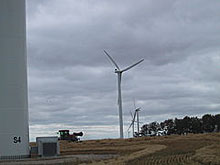 The 120 MW St. Leon wind farm, owned by Algonquin Power and Utilities Corporation commissioned in 2006, recently expanded by adding 10 turbines in the summer of 2011. St. Leon now has a total of 73 Vestas 1.65 MW turbines that are mounted 80 meter towers supplying the energy needs of over 40,000 homes. The $241 million project occupies an area of 200 square kilometres (50,000 acres) in the rural municipalities of Lorne and Pembina. With the expansion of the St Leon Wind Farm, Manitoba has over 258 MW of installed wind capacity.
For more information on Algonquin Power and Utilities Corp. and the St. Leon Wind Farm please refer to: http://algonquinpower.com/static/home.html