Transformation Program
---
The Case for Health System Transformation
Healthcare is the most important - and the most expensive - service provided by the Government of Manitoba. Numerous studies of Manitoba's health system have concluded that Manitoba's system is overly complex and, in many cases, acts as a barrier to effective and efficient delivery of services.
Regional health authorities were created in 1997 to better manage health care services closer to the patient. The number and types of health care providers needed to provide care have changed over time - but the health care system has not modernized in response.
Between 2003 and 2016, health care funding rose by 97 per cent. These significant increases in health care funding have not resulted in significantly improved health outcomes, and Manitoba remains at or near the bottom of national rankings in a number of categories.
Today, we have eight independent health delivery organizations - the five regional health authorities, Diagnostic Services Manitoba (DSM), CancerCare Manitoba (CCMB) and Addictions Foundation of Manitoba (AFM).
Each of these organizations plans health services in relative isolation from one another, leading to duplicate services and inefficient service delivery while acting as an impediment to the development and implementation of a clinical services plan for all Manitobans.
Now is the time to align how health-care services meet the needs of Manitobans. These transformative changes will strengthen health care in Manitoba and build a sustainable system for the future.
---
Manitoba Health Transformation Program
The Manitoba Health Transformation Program has been established to guide the thoughtful planning and phased implementation of broad health-system changes aimed at improving the quality, accessibility and efficiency of health-care services across Manitoba.
This charter defines the transformation program to form a baseline for ongoing management and assessment of overall success. The charter identifies the high-level scope of the program, including its role and mandate.
The charter will ensure there is a sound foundation for governance of the transformation program, define the program's scope and structure and ensure all stakeholders have a common understanding of role and responsibilities program's key leaders, projects, outcomes and results.
---
Transformation Leadership Team
A Transformation Leadership Team has been established, including representatives from across the health system. The team is prioritizing transformation initiatives and making recommendations on governance and policy development.
Members have been carefully selected to ensure robust links to both rural and urban health organizations, as well as to strengthen knowledge across preventive, clinical and business health domains. The team's membership may evolve as the transformation progresses and as a governance model is finalized.
Membership as of August 2021
Karen Herd, Deputy Minister of Health (Chair and Transformation Sponsor)
Adam Topp, Chief Executive Officer, Shared Health
Dr. Brent Roussin, Chief Provincial Public Health Officer

Beth Beaupré, Provincial Lead, Health Workforce, Shared Health

Dr. Brian Postl, Dean and Vice-Provost, Rady Faculty of Health Sciences, University of Manitoba

Brian Schoonbaert, Chief Executive Officer, Prairie Mountain Health

Dr. David Matear, Chief Executive Officer, Interlake-Eastern Regional Health Authority

Jane Curtis, Chief Executive Officer, Southern Health-Santé Sud

Lanette Siragusa, Provincial Lead, Health System Integration and Quality and Chief Nursing Officer, Shared Health

Lorraine Larocque, Director of Public Health Nursing, Northern Health Region

Marion Ellis, Vice-President of Acute Care and Chief Nursing Officer, Interlake-Eastern Regional Health Authority

Olivia Baldwin, Provincial Lead, Strategic Communications and Stakeholder Relations, Shared Health

Dr. Sri Navaratnam, President and Chief Executive Officer, CancerCare Manitoba

Mike Nader, President and Chief Executive Officer, Winnipeg Regional Health Authority
---
Blueprinting and Road-Mapping
Numerous studies of Manitoba's health system, including The Provincial Clinical and Preventive Services Planning for Manitoba report (also known as the Peachey Report), the Health Sustainability and Innovation Review undertaken by KPMG and the findings of the Wait Times Reduction Task Force have concluded that Manitoba's system is overly complex and, in many cases, acts as a barrier to effective and efficient delivery of services.
The Transformation Leadership Team is in the process of developing a Transformation Blueprint and Program Roadmap that will provide the department and the broader health system with a clear and consistent view of where our health system is heading and how we will get there as part of the overall health system transformation journey.
The transformation blueprint (the `what') is a description of the health system's destination i.e. the "target state" of the health system when the transformation is well advanced. The completed blueprint will guide the transformation journey by providing a clear outline of the target state for all provincial health organizations. It will describe the role of each organization, the functions it performs in the target state, and the way each organization interacts with each other to achieve a more aligned and responsive health system for Manitobans.
The program roadmap (the `how') is a description of the projects and activities required to get our health system from its "current state" (where we are now) to the "target state" (where we want to be) and ensure a successful transformation.
Once complete, the program roadmap will include identification of individual projects, program‐wide activities, resource needs and a staging strategy that will help to guide the overall transformation journey. The transformation blueprint is currently in its final stages of development.
Work on the program roadmap will begin shortly and will outline how and when transformation-related activities will unfold.
---
Shared Health
A provincial health organization, called Shared Health, is being created from within existing resources to provide centralized clinical and business services for the regional health authorities.
This includes clinical governance, such as strategic planning for services like surgery, mental health, orthopedics and primary care and the development and provision of consistent clinical standards and support for health human resources and labour relations.
The Provincial Clinical and Preventive Services Planning for Manitoba report (also known as the Peachey Report) and the Health Sustainability and Innovation Review undertaken by KPMG both note that while Manitoba's government is responsible for overseeing the provincial health care system, the province has never developed a provincial clinical services plan.
This is something that is in existence in many other jurisdictions and is essential to supporting effective health human resource planning, capital equipment investments, construction planning and other initiatives that should be coordinated province-wide. Shared Health will lead this work in Manitoba.
Business and support services will also benefit greatly from involvement in, and understanding of, a provincial plan. Services and functions that will be centralized include contracting and procurement of supplies and equipment, capital planning, communications, food distribution, laundry services, clinical engineering services and legal services.
In addition, some provincial health care services will be operated centrally in recognition of the province-wide nature of the services they provide. This will include the operation of Health Sciences Centre, Transplant Manitoba, provincial laboratories and emergency medical services (including dispatch outside Winnipeg).
These changes will reduce duplication of management and administrative functions while making sure each region is able to provide health care services with the guidance of a provincial clinical services plan. It will also make sure that services provided centrally are coordinated and consistent.
For more information on Shared Health, visit: sharedhealthmb.ca.
---
Changes to Emergency Medical Services
EMS - Care not station
EMS - A move to 24/7 staffing
Paramedics provide pre-hospital care to people who are sick or injured. This includes timely and safe medical assessment, treatment, and transportation services to health care facilities. Paramedics provide a high level of care from the moment they reach a patient until they get to a health care facility. In 2015/16, there were more than 110,000 calls for service in Manitoba.
Plans to transform emergency medical services include the implementation of recommendations from the 2013 Manitoba EMS System Review. The review resulted in a recommended province-wide response time standard of not more than 30 minutes for 90 percent of the population, 90 percent of the time. In 2015/16, 95.52 per cent of calls south of the 53rd parallel met this standard during daytime hours and 94.67 per cent during night time hours.
While this is good news, there is still more that can be done. Some sites have difficulty retaining enough staff to provide services and many rural stations are staffed part time, with staff on-call or called back to provide care outside of regular hours. This increases response times and costs, as staff first have to return to the station and then go out on the call. Other sites receive very low volumes of calls, which is not an efficient use of resources.
Manitobans deserve to have predictable, reliable ambulance services right across the province. The 2013 review recommended the relocation or restructuring of a number of station locations across Manitoba (south of the 53rd parallel). These recommendations were validated by an expert task force made up of government and regional officials, as well as paramedics. This included reviewing data from Manitoba Transportation Communications Centres on call volumes and dispatch to identify opportunities to strengthen the system.
These changes will allow us to better locate the services and match resources with actual call volumes to achieve response time standards.
Flexible deployment
When an ambulance is on a call, resources can to be shifted to ensure the ambulance can respond quickly when needed. This work happens often in rural Manitoba to ensure coverage is available when people need it most. This is known as 'flexible deployment'.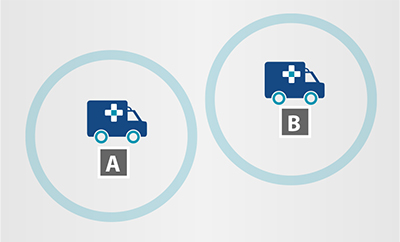 Community A and Community B both have ambulance stations.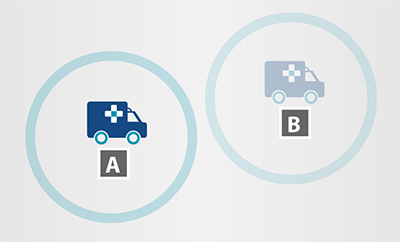 When the ambulance in Community B is sent out on a call.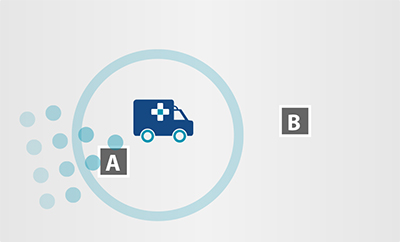 The ambulance from Community A is sent to a point in between the two communities.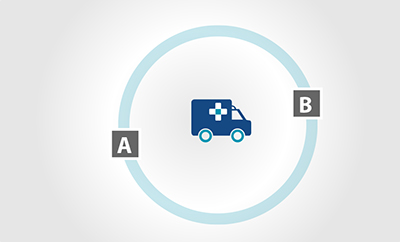 This ensures that both communities have ambulance coverage in case a second call is received.
---
Maps
The first map shows the current number and location of EMS stations in southern Manitoba. There are daytime and nighttime drive time representations for each EMS facility.

The second map shows the future number and location of EMS stations in southern Manitoba. Note that all stations will be operated 24 hours a day, seven days a week.

Both maps show the areas that each station responds to, as well as the response times for each station.