Carbon Monoxide Safety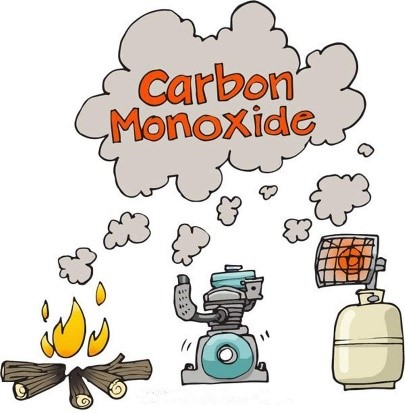 Carbon monoxide (CO) is often known as the "silent killer" as it is an odorless, tasteless, invisible gas that is produced whenever any fuel is burned. If inhaled over a period of time, it blocks oxygen from entering your body. For every one hour of exposure, it takes the body six hours to rid itself of carbon monoxide.
Some household appliances burn these types of fuels such as: fireplaces, furnaces, clothes dryers, gas stoves and hot water tanks. Other examples of these fuels are: wood, coal, charcoal briquettes, heating oil, gasoline, diesel, propane, kerosene, barbeques and camping stoves or anything with an internal combustion engine or gasoline powered.
Over the winter months, many people spend time in fishing shacks, and set up fuel-burning heaters and grills inside their shack to stay warm and for cooking. NEVER use a grill inside and NEVER use a fuel-burning heater unless well vented.
Exposure to CO causes flu-like symptoms such as headaches, nausea, dizziness, drowsiness, confusion, impaired judgement, loss of manual dexterity, and even loss of consciousness. In severe cases, carbon monoxide poisoning can cause death in people and pets.
What can you do to make sure you and your family stay safe wherever you are?
Ensure you have a CO alarm on every level of your home, and outside of each separate sleeping area.
Test all of your CO alarms monthly to make sure they are working properly.
Have your heating system inspected by a qualified professional and serviced every year to ensure it is working properly.
Replace your CO alarm every 10 years, or when you hear the "end-of-life" signal sound, which is one "BEEP" every 1 minute.
When travelling, staying away from home or in your fishing shack, bring a travel CO alarm with you.
REMEMBER: If you hear "BEEP BEEP BEEP BEEP", that's your CO detector warning you that there is carbon monoxide present, and you must get outside to a fresh air location, and call 9-1-1 IMMEDIATELY!