Expert Advisory Council
Expert Advisory Council
The Expert Advisory Council (EAC) was established under Section 7 of The Climate and Green Plan Implementation Act, passed by the Legislature of Manitoba on November 8, 2018.
The EAC is an independent group of experts with a mandate to provide advice and recommendations to the Minister on the Government of Manitoba's Climate and Green Plan. Specifically, under the Act, the Council is to:
(a) provide advice and recommendations to the minister on programs, policies and measures to be included in the climate and green plan;
(b) review progress on the implementation of the climate and green plan, and provide advice on any required changes to the plan; and
(c) provide advice and recommendations to the minister respecting greenhouse gas emissions reduction goals to be established under section 3.
With this broad mandate, the EAC determined with the Minister, as its initial order of business, to focus on advice and recommendations to establish Manitoba's first carbon savings account and GHG emissions reduction goals. This will be the framework for all carbon reduction efforts within the province and hence, was necessary as our first focus.
The Minister of Sustainable Development has received our report and has accepted our recommended goal for greenhouse gas emissions reductions. The Minister response to our recommendation is available English | French and letter to the Council on next steps.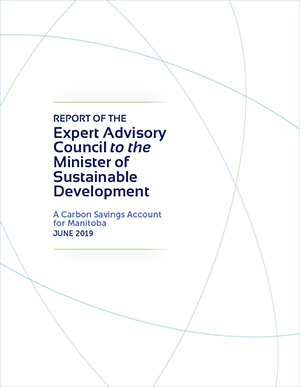 ---
Expert Advisory Council
Colleen Sklar, Chair
Colleen Sklar is the Executive Director of the Winnipeg Metropolitan Region where she works collaboratively with local leaders from across Manitoba to develop integrated regional responses and innovative approaches to land use planning, infrastructure investment, economic development, water management and protection to allow our growing communities to meet the demands of the future. Colleen is an IAP2 Certified Community Consultant, a recipient of the Queen Elizabeth Diamond Jubilee Medal for her volunteer work and acted in the capacity of vice-chair on the Lake Manitoba Flood Appeal Commission for the Province of Manitoba.
Andrew MacSkimming, Vice-chair
Andrew MacSkimming (Winnipeg) is a lawyer and owner of A.H MacSkimming Law Office. He has been a practicing lawyer since 2005 and has also worked as a Senior Policy Advisor for the federal Office of the Minister of the Environment (2006-2007). Prior to that he worked as a lawyer and articling student with Environment Canada Legal Services and as a Research Analyst with a leading energy consulting and brokerage firm. Mr. MacSkimming has also served in a variety of public roles including as Chair of the Manitoba Bar Association's Environmental, Energy and Resources Law Section. He holds an LL.M. or Master of Laws in Environmental Law (2004).
Laurie Streich
Laurie Streich (Winnipeg) retired from government in 2015. She served in many environment-related positions during her career, including her role as director of the pollution prevention branch of the former department of Manitoba Conservation. Ms. Streich has been a member of the Clean Environment Commission since 2016.
Karla Guyn
Karla Guyn (Lockport) is the CEO of Ducks Unlimited Canada. Prior to assuming the role of CEO, she held several senior leadership positions with Ducks Unlimited Canada over her 22-year career with the organization. This included serving as the national director of conservation (2013 - 2016) and director of conservation planning (2006-2013). She is recognized as a North American conservation leader, serving on international committees including the North American Waterfowl Management Plan and the Sustainable Forestry Initiative. Karla holds a masters of Science and a PhD from the University of Saskatchewan.
Ian Gillies
Now retired, Ian Gillies (Winnipeg) had a thirty year career with Cargill Limited, where he served in various management roles from 1984-2013. He holds a master of natural resource management from the University of Manitoba and has served on the Clean Environment Commission since 2016.
Dennis Anderson,
Dr. Dennis Anderson (Gimli) served 10 years as President of Brandon University (BU). Prior to joining BU, he was marketing professor and Associate Dean of Asper School of Business at the University of Manitoba. He conducted a number of research studies for the federal government and utility organizations focused on consumers' energy consumption behaviour, attitudes, and preferences. And he completed numerous applied research studies and consultations for private and public organizations on the marketing feasibility of new products and services.
Dimple Roy
Dimple Roy (Winnipeg) is a director with the International Institute for Sustainable Development, where she has worked in various capacities since 2008. Ms. Roy provides research leadership, policy analyses, and management functions on issues related to sustainable development in the context of people, land, water and agriculture in Canada and globally. She is also a former policy analyst for Manitoba Conservation (2005-2006).
Jim Irwin
Jim Irwin (Lake Audy) is the owner of Experiential Tourism Strategies Consulting. From 1984-2015, he operated Riding Mountain Guest Ranch. Mr. Irwin holds a bachelor of Science, a master of Science and a PhD. His areas of expertise include ecology, wildlife and resource management and wildlife diseases. He also serves as chair of the Riding Mountain UNESCO World Biosphere Reserve.
David McLaughlin, Technical Advisor to the EAC
David McLaughlin (Ottawa) MA, MBA, is one of Canada's leading climate and sustainability experts. He is currently director, climate change for the International Institute for Sustainable Development. He is the former president and CEO of the National Round Table on the Environment and the Economy. He was senior advisor, climate change in the Manitoba government. Mr. McLaughlin served in the New Brunswick government as deputy minister for policy and planning, secretary to the Cabinet Committee on Policy and Priorities, and Intergovernmental Affairs. He was chief of staff to the Prime Minister of Canada, the Premier of New Brunswick, and federal Minister of Finance.
---
Contact
If you have any questions or for more information, contact:
---