Livestock Price Insurance Cuts Risk for Producers
Program helps with unexpected price drops in hogs and cattle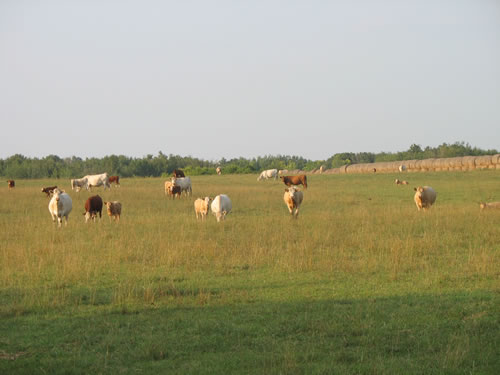 Manitoba's livestock producers have a new tool to manage risk and withstand market volatility with the Western Livestock Price Insurance Program (WLPIP). The voluntary program, announced in February, will allow Manitoba's beef and pork producers to insure their market livestock against unexpected drops in livestock prices.
Jason Dobbin, livestock price insurance co-ordinator with Manitoba Agricultural Services Corporation (MASC), is confident the program will appeal to cattle and hog producers.
"It enables producers to have confidence in the future," says Dobbin. "It helps them make production and marketing decisions and they can count on a market floor price, which they've never been able to do in the past."
Dobbin added that the program will help producers access credit because banks and credit unions will be guaranteed that producers are protected from unexpected market declines in which they have no control.
Heinz Reimer, president of Manitoba Beef Producers, says this program will provide a safety net that will help young people enter the business, and give established producers incentive to grow their herds.
"This will be very helpful if we ever run into another situation like the BSE crisis," he adds. "We expect this will be a popular program once producers understand how they can use it to manage their risk better."
Livestock producers face a substantial risk from unexpected price drops. Situations such as currency changes, mandatory Country Of Origin Labelling (COOL), disease, border closure and plant disruption have caused problems in the beef and pork industry over the past few years. The new program will help give farmers peace of mind by reducing their risk. It will allow producers to buy insurance based on their own marketing strategies and anticipated sale weights. They will choose the policy and coverage level they want - protecting their whole investment or just a portion.
The program provides insurance on the average market price, protecting against significant market price drops. The producer selects an insured price up to 36 weeks in the future and pays the associated premium. Basically, if the average market price is below the insured price, the producer receives the difference. Basis insurance will also be available for fed cattle, to protect against unexpected changes in the basis between the United States and Western Canada.
Settlement prices are calculated weekly for cattle and monthly for hogs and will reflect current Western Canadian prices. This ensures the program will respond to market conditions producers are actually facing in their home markets.
"The objectives of the program are to be simple, understandable, voluntary, predictable and bankable," says Dobbin. "We want producers to be able to count on an average market price for a certain amount of time."
The program is a joint-initiative between federal, provincial and territorial governments. The provincial and federal governments will cover the administration and delivery costs partly through funding from Growing Forward 2 (a federal-provincial-territorial initiative). MASC is acting as the insurer for Manitoba producers who participate in the program with Alberta's Agriculture Financial Services Corporation providing program administration across Western Canada.
The premiums are fully funded by producers. The program will continue for at least the remaining four years of the Growing Forward 2 initiative. Depending on how well it is received, WLPIP could become an ongoing program. 
Producers interested in learning more should contact their local MASC Insurance offices; go to: www.wlpip.ca; or call the WLPIP Call Centre at 1-844-782-5747. MASC aims to have the program operating in spring 2014. All producers wanting to take part must contact their local MASC offices. They will need a working email address and access to the Internet. They must be able to pay premiums with a credit card.
Growing Forward 2
In Manitoba, the federal and provincial governments are investing $176 million to advance the agricultural industry under Growing Forward 2: a five-year, federal-provincial-territorial initiative. The funding will help producers and processors become more innovative and competitive in world markets.
The Western Livestock Price Insurance Program will be partly funded through Growing Forward 2's AgriRisk Initiatives — Administrative and Industry Capacity Building program.