Verified Beef Production program paying off with traceability equipment and software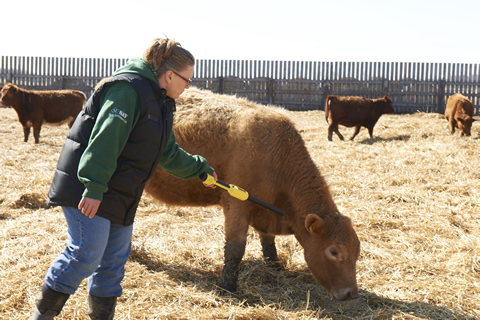 Mary Scheger uses an RFID scanner to check and animal on their farm near Mariapolis.
Growing Forward 2 is making it easier for Manitoba beef producers to improve on-farm productivity under the Verified Beef Production (VBP) program.
Growing Assurance - Food Safety On-Farm offers up to $12,000 in funding towards traceability, biosecurity and food safety initiatives for producers who are participating in VBP and have been audited. This includes Radio-Frequency Identification (RFID) equipment and software designed to save time and resources on the farm and help develop better food safety practices.
Gilles Ricard purchased the RFID equipment and software to help keep track of vaccination history, treatments, breeding and reproduction, cattle movements on and off the farm and production information such as gain, feed efficiency and gestation cycles.
"The RFID scanner has been wonderful. The software allows us to easily cross-reference our animals' visual ID with their RFID tags. All of the animals' histories would then be linked to the tag," says Mary Scheger, Ricard's common law partner and production partner.
Ricard and Scheger, who also works as an animal health tech in Notre Dame, have about 175 cows and heifers on their farm in Mariapolis, which Ricard purchased in 1990. The pair have done most of the work by themselves for the past nine years. Since purchasing the RFID scanner last year production has been faster and less stressful on the animals and on them.
Equipment eases production processes
"We no longer need to restrain an animal in order to read the number of the RFID tag. We can read the tags in a pen walking around, which keeps the animals so much calmer and decreases stress," she says. "The scanner makes everything we do as far as reading tags easier and quicker."
Scheger said one good example of the scanner's efficiency is shipping cull cows. They require an RFID tag to ship. Historically the pair would have had to run each animal through the chute to check the tags - now they can just scan them as they are loading.
VBP builds a name for producers
About 2,700 producers have attended a workshop about the program, however only 400 producers are registered under VBP, extending the program to about 50,000 head.
"One of the first things people always ask me is 'why should I do this' - they feel like they're already doing what is required under VBP so why sign up?" says Betty Green, provincial co-ordinator for VBP in Manitoba. "And I say why wouldn't you want to be recognized for that? If you're already doing what is required you might as well be recognized."
A commitment to following practices
To maintain the VBP status a producer must complete one assignment per year over the nine year program. The first year is the initial on-farm audit, which the producer pays for and can be cost-shared under Growing Forward 2's - Growing Assurance program.
According to Ricard and Scheger, being a part of the program not only opens opportunities for funding, but also education.
"Farmers might participate in the program because funding is available to purchase equipment and in turn they are learning about the importance of things they may not otherwise," says Scheger.
What funding is available
Once a beef producer has completed the training and successfully completed a VBP audit of their facilities, they may apply to purchase equipment that can help implement their food safety improvements. Beef producers are eligible to apply for up to $12,000 in available Growing Forward 2 funding across three categories.
Category
Cost Share Ratio


(Government:Applicant)

Maximum Funding
Traceability Program
RFID reading equipment and software
Carrying case and/or docking station for RFID equipment
65 : 35
$5,000
Food Safety On-Farm Program
First Audit for VBP program (up to $500)
65 : 35
$2,000
Biosecurity GAP Program
65 : 35
$5,000
 
 
$12,000
For more information on the Verified Beef Production program, contact Manitoba Beef Producers, Betty Green at 204-803-4536 or your local MAFRD GO Office.
---