Strawberry
Harvesting
U-Pick Harvesting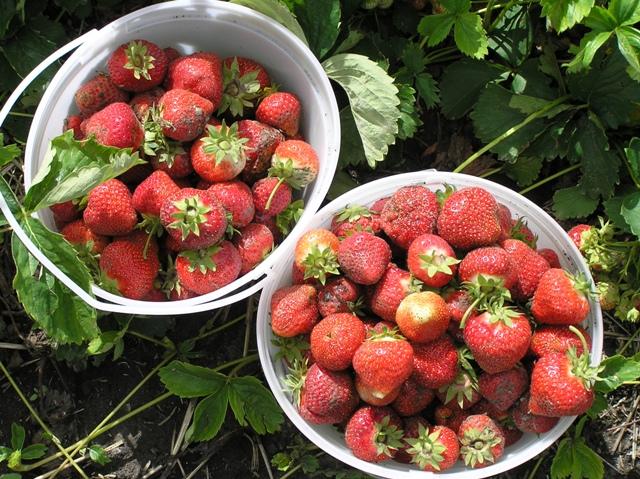 On the Prairies, most strawberries are harvested on a U-Pick basis. This method eliminates the need for harvesting, picking staff, containers, handling and grading facilities, and storing or shipping equipment.
A U-Pick operation requires high quality berries and fields that are neat, high yielding and free from weeds, diseases, and insects.
Essential requirements for a successful U-Pick operation are:
a location near an urban center, with an all weather road so customers can come to the picking location with ease
adequate and easily accessible parking
a way of advertising the location and the exact picking times (eg.) PFGA U-Pick brochure and website (One good idea is personalized business cards with maps showing the farm location.)
excellent signage
good telephone service
Drawing Customers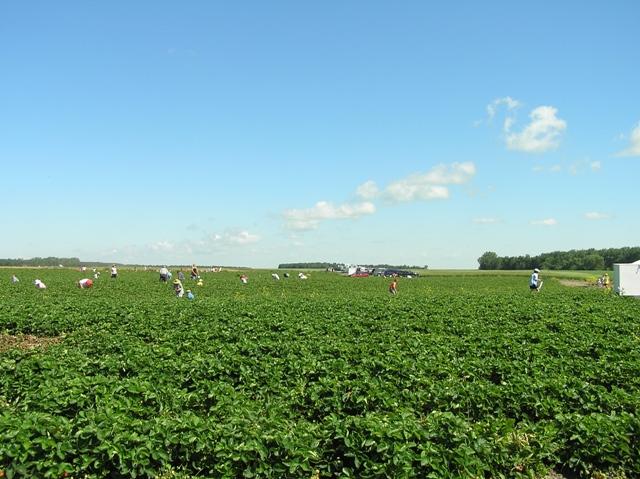 A satisfied customer is the most effective advertisement for a U-Pick operation. Good picking, fast checkout, fair pricing and friendly staff all contribute to good customer relations.
Attractive, legible U-Pick signs are important to create a good first impression.
Customers will be discouraged by line-ups and poor picking conditions, or if they are turned away because of poor crop information or lack of crop.
As competition for customers increases, growers should develop a positive farm identity that is distinguishable from other U-Pick operations. Today?s customers patronize U-Pick farms with fresh, quality product, friendly staff and a positive country image that provides a desirable experience. All of these qualities must be promoted in advertising and customer dealings. Growers attempting to base their reputations on lower prices will usually meet with poor economic returns in the long run. Service and quality are the two by-words of today?s successful strawberry grower.
Liability
Take steps to ensure the U-Pick operation is protected from liability:
Ensure that insurance policies adequately cover U-Pick operations.
Fence dugout areas and post signs warning of potential hazards.
Store equipment and pesticides in a safe location and in a safe manner.
Exercise extreme caution when applying pesticides on crops prior to harvest.
Always follow recommended application rates and days to harvest. Many customers and young children may be sampling unwashed fruit in the field.
Time to Pick
Yields are highest when ripe berries are harvested, so pickers should be encouraged to select fully ripened fruit. Ripe berries weigh more and are larger. In fact, there is a 76% increase in berry size from the white to the fully red stage.
Customers should be invited to pick only when there are adequate numbers of ripe berries on the plants. Weather conditions determine the rate of fruit development and thus the number of times a field should be picked each week. In hot weather, fruit ripens faster and picking every two days may be required. When cool weather delays ripening, picking every three days will be sufficient.
The Picking Operation
Customers come to the service booth for directions and to have their containers weighed or marked. Number the strawberry rows in the field to be harvested.
Field supervisors should be instructed to help customers find the assigned row and ensure they pick only in that area. A rule of thumb for staffing is to have one field supervisor for approximately 40 U-Pick customers.
The scale and check-in booth should provide protection from the sun and rain for equipment, staff and customers. The booth must also be adequately staffed to avoid customer line-ups. Post current price information in a prominent location to speed up customer check-out.
Sale of Picked Berries
When berries are picked for sale, provide a properly graded product. Pickers should be trained to harvest product that will meet all grade requirements. Cooling the product quickly to 1 degree to 2 degrees C (34 to 36 degrees F) is important for maximum shelf life.
Links
Sales Etiquette
Staff who meet the customers should be friendly, helpful and patient. Fair and friendly treatment promotes goodwill and is the best way of getting customers to return. Today?s U-Pick customer not only expects service but demands it.
Amenities
Clean washroom or toilet facilities must be available at all times. Where outhouses are used, provide a hand washing stands nearby. Locate these facilities at a site that is well away from the picking area but also convenient for customers. Many people regard a pick-your-own trip as a fun family outing that may include a picnic. It is worthwhile to provide a shady area with some tables, as well as conveniences such as a soft drink dispensing machine. Play areas, sand boxes and swings for children could also be added. Special customer services such as fishing holes, hiking trails, petting zoos and alternative crops can all enhance your farm?s profile. To sustain continued growth, U-Pick farms will have to provide more than fresh, high quality fruit for their customers.