Innovative Research for Manitoba's Fruit Industry: Fruit Projects On-going for 2010-2011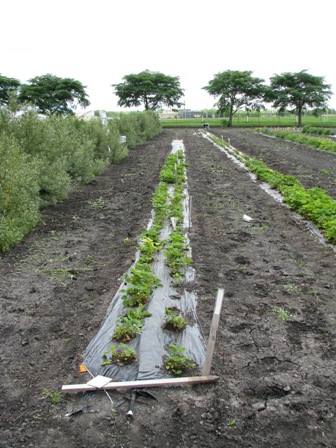 With the development of the research orchard at the CMCDC Portage Station and many partnerships with universities and research institutions across Canada, the Crops Knowledge Centre Fruit Crops Program and the Prairie Fruit Growers Association have been able to progress on innovative fruit crop projects for its growers. Below is a summary of projects that are on-going for the 2010-2011 research year.
1) Development of Day Neutral Strawberries Adapted to our Changing Climate and Sustainable Production
Objective: To develop made in Canada day-neutral strawberry cultivars suited for Canadian climate and soil conditions.
Background: At present, Canadian growers are faced with several challenges in their efforts to grow dayneutral varieties. The dayneutral strawberry varieties currently grown in North America were bred in California and, therefore, are not well suited to the Canadian climate. Of all the currently existing varieties, research has identified 'Seascape' as the only suitable dayneutral variety that can be grown across Canada. Unfortunately it can has a non-uniform flowering and fruiting pattern, is very susceptible to powdery mildew and lacks heat tolerance. Also, most dayneutral cultivars cannot be economically propagated vegetatively in Canada. Consequently, Canadian propagators are at a competitive disadvantage. Canadian-adapted varieties are required for this industry to develop. Advanced selections from this breeding program will be tested under Manitoba conditions at PFGA research orchard, CMCDC Portage Station.
This project was sponsored by the Canadian Horticultural Council for funding from the Agri-Science Cluster for Horticulture. This cluster was delivered as part of the Growing Forward framework under the Agri-Innovations program (AAFC).
Cooperators:
Adam Dale, Univ of Guelph -Plant Agriculture
Becky Hughes, Univ of Guelph - Kemptville
John Zandstra, Univ of Guelph – Ridgetown
Chaim Kempler, AAFC, PARC – Agassiz, BC
Craig Chandler, Univ. of Florida/GCREC
Vance Whitaker, Univ. of Florida/GCREC
Anthony Mintenko, Crops Knowledge Centre- MAFRI
2) Fractionation and Processing of Small Fruits for Applications in Functional Foods and Nutraceutical
This is a 2-year project ending March 2012. The prairie grown fruits to be included in this study will be black currants, chokecherries, saskatoons, seabuckthorn, dwarf sour cherry and blue honeysuckle (haskap). This work will develop processing and fractionation technologies for total utilization of berries; determine chemical and nutritional profile of whole berries and their fractions; develop value-added products using whole berries and their fractions; and develop technology and knowledge transfer plans of the processes and products for commercialization.
Collaboration between all 3 prairie grower groups: Alberta Farm Fresh Producers Association (AFFPA), Sask. Fruit Growers Association (SFGA), Prairie Fruit Growers Association (PFGA) and prairie food research centres: The Food Development Centre (FDC) in Portage la Prairie, MB; Food Processing Development Centre (FPDC) Leduc, AB; Saskatchewan Food Centre and University of Saskatchewan (U of Sask.), Department of Agricultural, and Bioresource Engineering, Saskatoon, SK. These centres have unique and complementary capabilities applicable to small fruit fractionation and processing; hence, their collaboration in this project.
Funding provided by: Canadian Agricultural Adaptation Program (CAAP) (administered by Manitoba Rural Adaptation Council and Prairie Fruit Growers Association) with industry funding provided by: Alberta Professional Horticultural Growers Congress and Foundation Society (APHGCFS), AFFPA, SFGA, PFGA.
Project Leader: Alphonsus Utioh, Manager Product & Process Development
Project Research Lead: Prabal Ghosh, Senior Scientist
Food Development Centre, Portage la Prairie, MB
3) Characterization of Entomosporium Leaf and Berry Spot Populations in the Prairies on Saskatoons
This 2 year project (2010-2011) will collect Entomosporium mespili-infected tissue from different saskatoon sources on the prairies and across North America (both commercial and experimental orchards) and, where possible, prepare isolates in pure cultures (this was not possible before). The samples will be analyzed to determine the pathogenic variability of the collected isolates, on different Saskatoon cultivars and, where possible, other host species. The objective is to determine whether any races/pathotypes compose the pathogen populations from different regions, locations, or orchards in the prairies. This project will have great benefit to future saskatoon cultivar development programs.
Lead Researcher: Dr. Fouad Daayf, Horticultural Pathologist, Department of Plant Science, University of Manitoba http://umanitoba.ca/faculties/afs/plant_science/
Funding provided by: Agri-Food Research and Development Initiative (ARDI)
Industry funding provided by: Prairie Fruit Growers Association (PFGA)
If you wish to submit samples this fall or next spring, see details below.
Sampling Procedures
Collect infected leaves (need low level of infection, only 1-6 infections per leaf)
Wrap leaves in paper towel, place in ziplock bag and store in fridge until shipped.
Label ziplock bag with your:

Name
Phone number (or e-mail)
Location of sample (nearest town)
Saskatoon variety (if wild plant list as "wild")
Any information on the extent/importance of the symptoms in the orchard/field

Label envelope "Saskatoon Disease Sample"
Courier/ mail to this address:

Dr. Fouad Daayf
Department of Plant Science
222 Agriculture Building
University of Manitoba
Winnipeg, MB, R3T 2N2
4) Manitoba New Fruit Crop Diversification Study
In partnership with the University of Saskatchewan Fruit Breeding and Research Program, the project will evaluate and demonstrate new fruit crops to Manitoba fruit growers under unique Manitoba climate conditions. New fruit crops native and non-native to the prairies that have been and are presently being evaluated at the University of Saskatchewan (Saskatoon, SK) and various evaluation nurseries throughout Saskatchewan will have a sister nursery at Portage la Prairie, MB CMCDC Field Station. This study will consist of demonstration trials, advanced selection breeding nurseries and collection seedlings evaluation trials. 
Funded by: MRAC
Project Duration: 2008-2010
Project Applicant: PFGA
Project Partners: MAFRI Crops Knowledge Centre, Univ. of Sask. Fruit Breeding and Research Program (Dr. Bob Bors) and CMCDC.
i) Blue Honeysuckle Evaluation Nursery
Blue Honeysuckle is new to this area of the world, but are very well adapted to growing conditions at northern latitudes, having been developed commercially in Siberia and Russia. There are many common names for Blue Honeysuckle (Haskap is the Japanese name for this fruit crop), also known as honeyberry in NA. This fruit crop is essentially unknown in NA, so domestic markets need promotion. However there is a significant market in Japan for Haskap berries (potential export market for Prairies production). Used in Japan in beverages, jam, candy, noodles, etc. Blue honeysuckle has an early harvest season (June) as well as having flowers that can take -7C without damage. The seeds are small and unnoticeable. They are easily detached and undoubtedly can be mechanically harvested. The University of Sask. breeding program for Blue Honeysuckle is using selections from Russia, Japan, Oregon breeding program and native Canadian wild blue honeysuckle collections. Varieties available at present include Russian varieties (Berry Blue, Blue Belle, Baby Blue) and University of Saskatchewan new releases Tundra and Borealis. Wild collections of Canadian blue honeysuckle are being collected by Dr. Bob Bors 2008-2009. Advanced selections and new releases (Tundra and Borealis) from the University of Saskatchewan will be evaluated under Manitoba conditions.
ii) Hazelnut Seedling Evaluation Nursery
The Hazelnuts being bred at the University of Saskatchewan are hybrids between wild prairie and cultivated European types. The hazelnuts are at an early stage of development and require further testing. Many of our selections are self blanching (the paper is removed during cracking). This characteristic is desirable for baking and candy.
iii) Nanking Cherry Seedling Evaluation Nursery
Nanking cherry was introduced to North America from Central Asia in 1882. This shrub reaches 2 m (6 fit) in height and 2 m (6 fit) in width. Nanking cherry generally requires cross-pollination. (i.e. two Nanking cherry plants are needed for fruit production.) The cherries are usually 1.5 cm (0.5 in) in diameter, however some plants produce larger fruit. There has been a limited amount of breeding of Nanking cherry for its fruit. Most seedlings currently on the market are mainly ornamental, but breeding and selection may result in higher fruit quality and improved uniformity.
iv) Sour Cherry Cultivar Demonstration
The breeding of dwarf sour cherries began in the 1940's by Dr. Les Kerr. The past 50 years of breeding have combined cold hardiness, dwarf stature and good fruit quality into the final product. The cherry releases by the University of Saskatchewan are a great tasting cherry with a high sugar content and round pit suitable for mechanical pitting. They also have very good potential for mechanical harvesting which is necessary for commercial fruit production. Approx. 10 acres of sour cherry have been planted in MB for commercial production and in 140 acres in SK.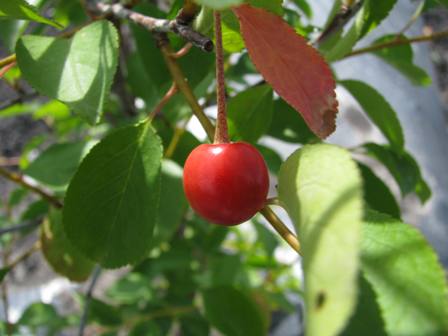 Dwarf Sour Cherry
Sour Cherry Cultivars:
Carmine Jewel - small pit (therefore more fruit per cherry), dark red/ black when ripe, 3.5 g fruit size, earlier maturing (late July top early August), low suckering, large showy flowers (good ornamental), good for processing and fresh eating.
Valentine - very productive, this is the most productive of the selections, slight suckering, fruit size about 4.5 grams, bright red colour.
Crimson Passion - highest sugar content (up to 22 brix), excellent fresh eating cherry, very low suckering, fruit size is large at 5.8 grams per fruit, , small bush, slower rooting, small flowers.
Juliette – very sweet (brix up to 20), good fresh eating type, large fruit at 4.5 grams, low suckering.
Romeo - Best for juice, dark red/black cherry similar to Carmine Jewel appearance but ripens later, very flavorful, good for fresh eating and processing.
Cupid – Latest ripening (blooms 1 week later than the other sour cherries), most years largest of all the cherries at 6 to 7 grams, good flavor for fresh eating (hint of astringency).
v) Plum Seedling Evaluation Nursery
The Plant Sciences Dept. at the Univ. of SK has been collecting wild plum genotypes that are proven pollinizers and are growing wild plums from seed collected from natural stands and testing their suitability as pollinizers. Many of the plum cultivars sold at the nurseries are hybrid plums which are genetic combinations of wild plums with Prunus salicina (e.g. Pembina, Patterson Pride, Prairie). The department is also developing high quality plums by crossing hardy cultivars of hybrid plums with the colourful, high quality cultivars that are grown in California. NB, southern QC and ON.
vi) Apricot Seedling Evaluation Nursery
The apricots grown on the prairies originated in Northern China and Siberia. They typically survive our harsh prairie winters, but can flower very early, sometimes in late April so it is very common that a late spring frost can destroy all the flowers on the tree. The objective of this breeding program is to develop hardy, late flowering varieties, building upon the research completed at the old horticulture fruit program at AAFC Morden research station.
Other demonstration plots:
a) Seabuckthorn Variety Demonstration- PFGA Research Orchard, CMCDC Portage Station Used for centuries in Eurasia for food and medicinal uses. Seabuckthorn products were utilized in the diet of Soviet cosmonauts to reduce stresses of extended space missions (skin cream and juice). Claimed to be the first fruit juice in space. Introduced to Canada as ornamental and shelterbelt shrub. Recently planted in orchards for commercial production across Canada, but mostly on the prairies. Harvesting methods and market development are the major challenges for the industry.
Varieties:
Harvest Moon - Virtually thornless, has good yields (2.3 kg/plant in the first year of fruiting) of large fruit that is easily harvested by hand or shaking. Berries are large (0.8g), yellow orange in colour. Form is compact and easily trained to one stem.
Orange September - Similar to Harvest Moon. Selected from a seedling population of sp. Mongolica originating from Russia. Higher soluble sugar in the fruit. (13.7 Brix)
b) Saskatoon Variety Demonstration- PFGA Research Orchard, CMCDC Portage Station Saskatoon fruit are native to the Canadian prairies and are known worldwide for their outstanding taste and unlimited processing potential.
Varieties:
Lee#8
Thiessen
Success
Parkhill
Nelson
Smoky
Northline
Pembina
Honeywood
Martin
c) Saskatoon Model Orchard- Stonewall- larger replicated demonstration orchard of saskatoon varieties and demonstration of best management practices common on saskatoon orchards on the prairies (PESAI, EPSI, PFGA, MAFRI collaboration).
5) Manitoba Stock Quality Trial
Project Partners: PFGA, MAFRI Crops Knowledge Centre Fruit Program, CMCDC
Objective: To determine the quality of strawberry plant stock being shipped by suppliers in NS, ONT and California. Assessments include survival and plant vigour are recorded in late June and early August. Planted at the PFGA research orchard, CMCDC Portage Station.