Shared Health
A provincial health organization, called Shared Health, is being created from within existing resources to provide centralized clinical and business services for the regional health authorities.
This includes clinical governance, such as strategic planning for services like surgery, mental health, orthopedics and primary care and the development and provision of consistent clinical standards and support for health human resources and labour relations.
Business and support services will also benefit greatly from involvement in, and understanding of, a provincial plan. Services and functions that will be centralized include contracting and procurement of supplies and equipment, capital planning, communications, food distribution, laundry services, clinical engineering services and legal services.
In addition, some provincial health care services will be operated centrally in recognition of the province-wide nature of the services they provide. This will include the operation of Health Sciences Centre, Transplant Manitoba, provincial laboratories and emergency medical services (including dispatch outside Winnipeg).
For more information on Shared Health, visit: sharedhealthmb.ca.
---
Manitoba Health System Current State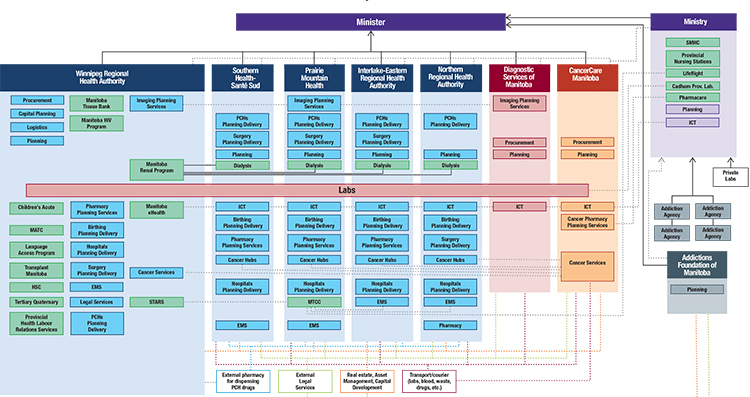 Chart Showing Manitoba Health System Current State (pdf)
---
These changes will reduce duplication of management and administrative functions while making sure each region is able to provide health care services with the guidance of a provincial clinical services plan, something in existence in other jurisdictions and essential to effective health human resources planning, capital equipment and construction planning and technology planning, among others. It will also make sure that services provided centrally are coordinated and consistent.
Manitoba Health, Seniors and Active Living and the regional health authorities will be working together to develop detailed plans and implement the changes over the coming months.