Strengthening our System
Healthcare is the most important - and the most expensive - service provided by the Government of Manitoba. Numerous studies of Manitoba's health system have concluded that Manitoba's system is overly complex and, in many cases, acts as a barrier to effective and efficient delivery of services.
Regional health authorities were created in 1997 to better manage health care services closer to the patient. The number and types of health care providers needed to provide care have changed over time - but the health care system has not modernized in response.
Between 2003 and 2016, health care funding rose by 97 per cent. These significant increases in health care funding have not resulted in significantly improved health outcomes, and Manitoba remains at or near the bottom of national rankings in a number of categories.
Today, we have eight independent health delivery organizations - the five regional health authorities, Diagnostic Services Manitoba (DSM), CancerCare Manitoba (CCMB) and Addictions Foundation of Manitoba (AFM). Each of these organizations plans health services in relative isolation from one another, leading to duplicate services and inefficient service delivery while acting as an impediment to the development and implementation of a clinical services plan for all Manitobans.
---
Manitoba Health System Current State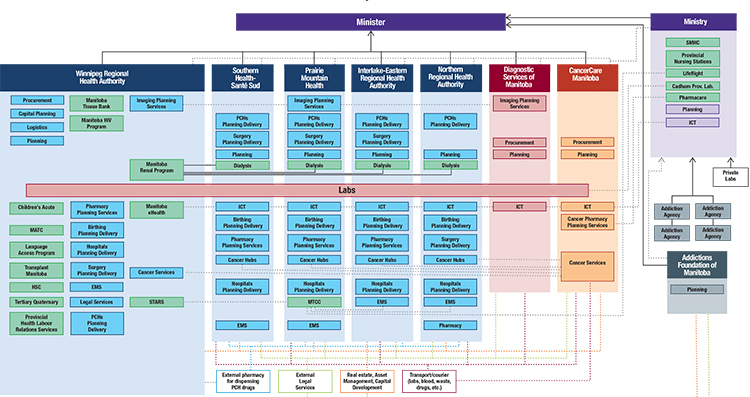 Chart Showing Manitoba Health System Current State (pdf)
---
Manitoba Health System Proposed Future State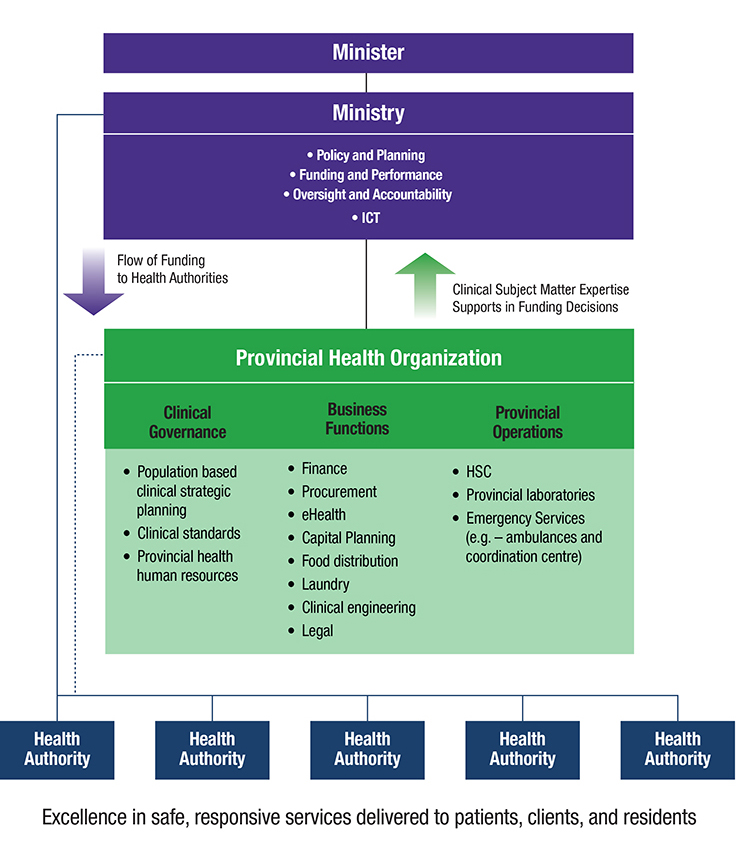 Manitoba Health System Proposed Future State (pdf)
---
In rural Manitoba, many emergency departments and acute care services have been closed, or are shared with neighbouring communities because resources are stretched too thinly across the province. A 2013 review of the province's emergency medical services system recommended the development of more integrated, responsive, reliable and sustainable services, but implementation stalled as a result of the complex nature of the health system.
The Provincial Clinical and Preventive Services Planning for Manitoba report (also known as the Peachey Report) and the Health Sustainability and Innovation Review undertaken by KPMG both note that while Manitoba's government is responsible for overseeing the provincial health care system, the province has never developed a provincial clinical services plan.
This is something that is in existence in many other jurisdictions and is essential to supporting effective health human resource planning, capital equipment investments, construction planning and other initiatives that should be coordinated province-wide.
Now is the time to align how health-care services meet the needs of Manitobans. These transformative changes will strengthen health care in Manitoba and build a sustainable system for the future.